HASE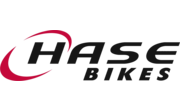 The Hase factory has been building exclusively specialized cycles since 1994. Unique bikes and trikes that offer incomparable riding enjoyment and freedom of mobility without sacrificing perfect practicality.
Just what you'd expect from a company where all of the employees, from designer to packer, are true cycling enthusiasts who have turned their passions into professions. The Hase factory functions according to a simple equation: cycling passion + fresh creativity = dynamic specialized cycles for any imaginable occasion. Adrenalin? Included in the price.

At the end of the work day, most employees prefer the recumbent to the recliner, spending afternoons tearing down hills or screaming around curves balanced on two of the Kettwiesel's three fun-filled wheels - just what you'd expect from incurable cycling addicts.
If you can't find the items you are looking for within our main site, you should be able to view the complete range from HASE by visiting their own website: (although please be aware that not all products may be available within the UK)
VISIT
HASE Website