South America on a bicycle made for two
Thursday 2 September 2010, Filed in: General
On our first ever tandem tour (Sheffield to John O'Groats) an idea was born: the length of South America on a bicycle made for two. Sounds daft eh? We thought so too, so we revised our plans to Equador and Peru instead.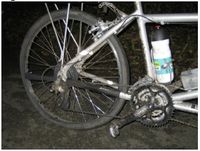 The, bike, a Santana Picante, was purchased from JD Cycles in Ilkley (many thanks for all the help and advice) and christened 'Johnny' after his place of conception. We bought a map and some spangly new shoes, and spent many hours making phone-calls and writing letters to try and get some kind of assurance our beloved would be accepted onto the plane. No joy. KLM do NOT carry tandems, even if it does fit inside the bike-box that they provide. We took a risk and parcelled Johnny up like a solo bike, and kept our fingers crossed they wouldn't x-ray it and find too many saddles. The other problem was the weight limit – the bike would only be carried free if we did not exceed the weight limit. After the bike and all it's packaging, that left us only 12Kg plus hand luggage for ALL our equipment. Only one change of pants then. We were about 1Kg over our limit, but the Gods were looking down on us and we arrived in Quito, Equador, with us, bike and luggage intact.
We had a couple of false starts in leaving the Capital – firstly we severely buckled the front wheel on the first day by hitting, at 45mph, a series of enormous potholes on the biggest and (supposedly) best-maintained road in all of South America. Lesson learnt.
That night we had some tools stolen from the bike whilst camping. We spent the whole of the next day getting the bus back to Quito to buy more. Second lesson learnt.
After that everything went fairly smoothly. The rains stopped on our 4th day and never returned with any gusto. We got fitter and our Spanish improved. We headed into the hills, leaving behind the Panamerican Highway (and the tarmac) and the city mentality, in exchange for spectacular views, traffic-free 'roads' and friendly locals. Children ran along-side us shouting and laughing, and we raced a young boy up a hill (we won, but he had no gears and his back wheel was nearly square). We camped in a beautiful meadow surrounded by tiny yellow flowers and a winding stream. We camped behind a school and got mobbed by curious children in the morning. We drank wine and ate banana and chocolate melted over a campfire. We laid on our backs watching the stars come to life in the most spectacular vista I have ever seen.
In Equador we did a large loop to the West of the Panamericana, taking in the spectacular volcanic crater-lake of Laguna Quilotoa, via El Corazon ("The Heart"
to Riobamba. The roads varied from whizzing down fast tarmac (few and far between) to slogging up tiny dirt tracks more suited to solo mountain bikes with no luggage than a 60Kg tandem with two lardy Gringos who've eaten too many burritos. El Corazon stands at 1000m, which meant descending 3000m over 1½ days, the final 65km being utterly relentless. 65Km downhill sounds great doesn't it? Oh no. No, no no. By the time we got to El Corazon I was ready to throw the whole bike in the river and watch it get carried away to the Pacific. Had I been on my mountain bike I would have been whooping and wailing all the way down the road which, in parts, was technical and steep enough to keep even the most avid biker happy. On a fully loaded tandem however, going downhill was just as much work as going uphill (for me anyway, Beccy just sat there looking at the view).
The areas we passed through were also very varied. Near El Corazon was rain/cloud forest with a hot and humid climate. We were surrounded by fruit trees and lush green valleys with crops in every cultivable area, and dense thickets everywhere else. We had a swarm of colourful butterflies all around us as we travelled the narrow and winding jungle path. The bird sound was intense and beautiful, and we even saw a snake slithering across the path. The higher we climbed the colder and more bleak became the environment. In the last two days before Riobamba we circled Equadors highest mountain, El Chimborazo (6300m ish), the snow-covered peak of which towers above the surrounding hills and valleys.
As expected, the markets were a highlight, with vibrant colours and intense activity as far as the eye can see. Every kind of fruit and vegetable you can imagine, and quite a few you can't are available from hundreds of stalls usually run by traditionally dressed Quechuan women, gabbling to each other, often with a baby tied tightly into a bundle of cloth slung across their backs. The foods are spectacularly fresh, organic and tasty, provided you cook it yourself. The restaurants and street stalls leave a little to be desired, unless you like fried chicken or soup with unidentified animal parts (I'm loathed to say "meat"
in it.
We caught a bus to miss out the busy Panamericana of Southern Equador, to begin cycling again from the mountain town of Chachapoyas in Northern Peru, heading South along the spine of the Andes to Huaraz. Peru felt much more remote and involving than Equador. We travelled through dramatic scenery with knife-edged ridges and tree-lined hills stretching away as far as the eye could see. The roads were little-travelled by Gringos, and we were welcomed into peoples homes and communities like long-lost friends. Never before have I met people so open, generous and trusting of complete strangers.
A challenging, but strangely rewarding day was the descent into, and climb out of the valley between Mollepata and Pallasca. We first saw the road climbing out of the valley as we descended into Mollepata. It was quite hard to interpret our emotions at the time – simultaneous dread and laughter – something approximating hysteria probably. The road seemed to climb a cliff, via a series of switch-backs that went on forever. Literally. Still, we had no choice as there was no other road, no buses, and no way round without retracing our steps (pedals) for about a week. The descent into the valley was characterised by wet, sticky, clay-like mud that we had to scrape out of the mud-guards every few hundred metres for about 10km. After cleaning the bike in the valley bottom we started the climb which began relatively well. The road was of loose, dry rock and sand, and was steep. I mean STEEP. The steepest we had cycled by far, but just about manageable. After an hour or so, in the heat of the day, my handlebars snapped due to the strain of having to control such a heavy rear-end (luggage, not Beccy) on rough terrain. We thought that was it, we were destined to walk. Somehow I managed to swap the front and rear bars, and we fixed the broken bars with a stick through the middle, to make a functional but somewhat contrived new bike. We then had to get used to a bike that handled completely differently on the most ludicrous hill on the planet. All this took about four hours, so we had run out of water too, and it was the hottest day we had experienced for ages. Despite all the setbacks, we achieved our destination for the day, and both felt bizarrely satisfied. We had seen two mountain foxes, butterflies, a snake, lots of lizards, and some birds of prey. The scenery was beautiful and we saw only about three vehicles all day (all going the wrong way).
We rested in Pallasca for a couple of days, then continued along high mountain ridges until we began to descend into the desert valley through which we travelled to Huaraz. After crossing a high mountain pass we were suddenly in the desert, with the surroundings changing with every passing mile. The descent and following climb were incredible. We descended continually for 90km on metalled roads, and were slowly swallowed by the valley as the hills became less green and more rock, shale and mud. The gorge became narrower and more dramatic as we descended, and the setting sun accentuated the reds and oranges of the rocks. This continued for the next four days as we climbed along the next valley, back into the mountains, culminating in the Cañon del Pato. This is a 30km long gorge that is so deep and narrow you can barely see the top and bottom. Somehow the road manages to follow the gorge, via a series of 39 tunnels, varying in length up to about 400m. The tunnels are completely unlit, and only wide enough for one vehicle at a time. You are supposed to honk your horn before the tunnel, but our bicycle bell didn't really cut it. Ever tried cycling in the pitch black? Your sense of balance completely vanishes, as does you perception of distance, and also where the walls are. Our little torches were less than useful, so all I had to focus on was a pinprick of light a long way away. I was unsure whether to feel astounded at being engulfed in this enormous heap of rock, or simply terrified of oncoming trucks and desperate to get out. A bit of both I think. It was, however, an amazing way of entering the mountains proper. As we left the gorge and the valley opened out, we finally emerged into the snow capped mountains we had waited so long for. We were surrounded by 6000m peaks and felt like we had really earned the privilege of being there.
Two days of cycling on good roads, with a steadily increasing population and civilisation took us to Huaraz, and the end of our cycling. After two months on the road, we were glad to stop. Cycling is an amazing way to travel through an area that would otherwise be relatively inaccessible. We spent most of our time in the places other travellers only see through a bus window, if at all. We experienced hospitality, generosity and friendliness that you simply don't see in towns. It was, however, extremely hard work, and we were looking forward to a decent rest, a comfy bed and hot showers. We found all of these and more in Huaraz, and thoroughly spoilt ourselves.
We spent the last month of our trip trekking, mountaineering, and doing touristy stuff. I even entered a mountain bike race in the annual 'Mountain Sports Festival' in Huaraz, and got absolutely thrashed! A chest infection, 4500m altitude, and a hired bike were just a few of my excuses (there were plenty more).
In conclusion, cycling through Equador and Peru has made for the best trip we have ever done. For us, South America has the best combination of scenery, weather, accessibility and remoteness of anywhere in the world. The people are friendly and interested, but also respect your space.
We would go again tomorrow!